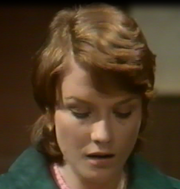 Ruth Merrick
calls in on 
Emmerdale Farm
to speak to
Annie Sugden
who is hostile towards her and says that it appears that as others are not interested in her woes that Ruth has come to "weep on her shoulder". She says how 
Tom Merrick
bought a lady, Linda home one night and it made her realise why he had been spending so many nights out lately. At 
The Woolpack
the regualrs hold a dominoes game. 
Janie Blakey
and 
Frank Blakey
discuss him moving away and she says that she wants to stay in the village.
Matt Skilbeck
announces that he is having the twins christened
Guest cast

Writer - Neville Siggs
Director - Michael Snow
Producer - Robert D Cardona
Ad blocker interference detected!
Wikia is a free-to-use site that makes money from advertising. We have a modified experience for viewers using ad blockers

Wikia is not accessible if you've made further modifications. Remove the custom ad blocker rule(s) and the page will load as expected.