Ruth Merrick
has been taken to hospital and it looks like that she will be alright. Although the news spreads through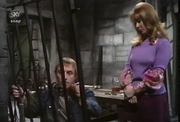 the village like wildfire. 
Rev Edward Ruskin
visits 
Frank Blakey
at the forge and talks about Ruth's troubles lately with her husband. Frank says that he may be able to start his new job in 2 weeks. At
Emmerdale Farm
, 
Annie Sugden
and 
Sam Pearson
discuss Ruth Merrick.
Guest cast None
Ad blocker interference detected!
Wikia is a free-to-use site that makes money from advertising. We have a modified experience for viewers using ad blockers

Wikia is not accessible if you've made further modifications. Remove the custom ad blocker rule(s) and the page will load as expected.