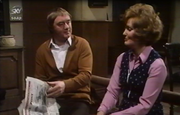 Ruth Merrick
is making her presence felt back in Beckindale having left her husband
Tom
, and the gossip spreads round the village. 
Matt Skilbeck
invites 
Alison Gibbons
to 
Emmerdale Farm
where they have a chat.
Mr Wilks returns to Beckindale with good news but Amos Brearly is not so pleased. The contract is ready for Henry to buy half of The Woolpack. Amos is still sceptical about going into partnership. Rev Edward Ruskin sees the forge door open and comes in and sees Ruth Merrick has taken an overdose.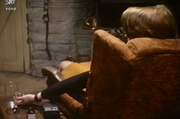 Guest cast
Ad blocker interference detected!
Wikia is a free-to-use site that makes money from advertising. We have a modified experience for viewers using ad blockers

Wikia is not accessible if you've made further modifications. Remove the custom ad blocker rule(s) and the page will load as expected.