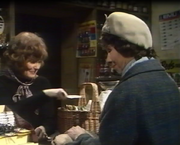 The Beckindale Hunt was being held on the village green outside the Woolpack, of which
George Verney
attends. 
Amos
and 
Henry
started clearing up after the New Years party and Joe Sugden gave 
Frank Blakey
a congratulations about Janey being pregnant, which was news to Frank.
Main cast
Guest cast
Ad blocker interference detected!
Wikia is a free-to-use site that makes money from advertising. We have a modified experience for viewers using ad blockers

Wikia is not accessible if you've made further modifications. Remove the custom ad blocker rule(s) and the page will load as expected.