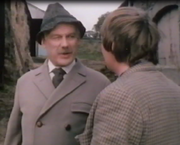 Annie Sugden has her own opinion of
Alison Gibbons
's plans for the shop and at the same time she is mourning the damage of her late grandmothers teapot. Alison wants to knck the 2 shop rooms into one so she can add a freezer unit. She also worries that
Henry Wilks
will soon be owning the whole village as he seems to have shares in everything now,
Emmerdale Farm
,
The Old Woolpack
and
the shop
. Alison has to call on Frank Blakey for help as she says she heard someone in the shop at night.
SHEILA MERCIER - Annie Sugden
FRAZER HINES - Joe Sugden
FREDERICK PYNE - Matt Skilbeck
TOKE TOWNLEY - Sam Pearson
ARTHUR PENTELOW - Henry Wilks
RONALD MAGILL - Amos Brearly
CAROLYN MOODY - Alison Gibbons
ERIC ALLAN - Frank Blakey
DIANE GRAYSON - Janie Blakey
ANGELA CHEYNE - Christine Sharp
Writer - KEVIN LAFFAN
Director - DAVID GREEN
Producer - ROBERT D CARDONA
Ad blocker interference detected!
Wikia is a free-to-use site that makes money from advertising. We have a modified experience for viewers using ad blockers

Wikia is not accessible if you've made further modifications. Remove the custom ad blocker rule(s) and the page will load as expected.