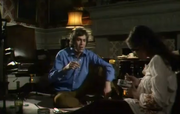 The Sugdens worry that
Joe Sugden
was driving under the influence of drink when driving up to
Inglebrook
. Over a meal,
Jack Sugden
and
Marian Wilks
chat and she finds that he is literary. He asks to stay the night. Marian refuses. 
Tom Merrick
tells
Ruth Merrick
to come up with a box of sandwiches as an excuse to see Jack tomorrow. He remarks what a coincidence it is that his eldest son has the same name as Jack considering he was her former love.
Matt Skilbeck
goes for a job interview at
Latters Steelworks
in
Bradford
. He is not happy with factory work.
Main cast
Guest cast
WRITER Kevin Laffan
DIRECTOR Gordon Flemyng
PRODUCER David Goddard.
EXECUTIVE PRODUCER Peter Holmans
Places seen
Edit
Ad blocker interference detected!
Wikia is a free-to-use site that makes money from advertising. We have a modified experience for viewers using ad blockers

Wikia is not accessible if you've made further modifications. Remove the custom ad blocker rule(s) and the page will load as expected.