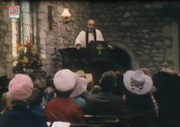 Rev Ruskin holds a sermon in the church where the attendees sing Come Ye Faithful. The Harvest Festival brings the promise of a new life to the Rev & Mrs Ruskin. Annie has her own troubles - mostly in the kitchen and she is still reeling after Jack's departure.
FRAZER HINES - Joe Sugden
SHEILA MERCIER - Annie Sugden
TOKE TOWNLEY - Sam Pearson
FREDERICK PYNE - Matt Skilbeck
ARTHUR PENTELOW - Henry Wilks
GEORGE LITTLE - Rev Edward Ruskin
DAPHNE GREEN - Liz Ruskin
CAROLYN MOODY - Alison Graham
DIANE GRAYSON - Janie Blakey
ERIC ALLAN - Frank Blakey
LARRY NOBLE - Ben Dowton
BARBARA OGILVIE - Beattie Dowton
NOEL COLEMAN - The Bishop
OLIVE PENDLETON - Mrs Blenkinstop
JOANNA TOPE - Dr Clare Scott
Writer - KEVIN LAFFAN
Director - DAVID GREEN
Producer - ROBERT D CARDONA
Final appearance of Dr Claire Scott although she continues to be mentioned for some time after this episode.
Ad blocker interference detected!
Wikia is a free-to-use site that makes money from advertising. We have a modified experience for viewers using ad blockers

Wikia is not accessible if you've made further modifications. Remove the custom ad blocker rule(s) and the page will load as expected.