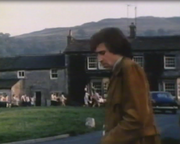 George Verney
takes the decision over Amy Poslethwaite's shop, and suprises Mr Wilks. Jack Sugden accepts criticism of his novel, but Annie Sugden is upset by criticism of Jack. Jack realises that he should never have came back to Beckindale and decides to leave once again. He is then seen looking over the village from the bridge before he walks away.
FRAZER HINES - Joe Sugden
SHEILA MERCER - Annie Sugden
ANDREW BURT - Jack Sugden
TOKE TOWNLEY - Sam Pearson
FREDERICK PYNE - Matt Skilbeck
ARTHUR PENTELOW - Henry Wilks
GEORGE LITTLE - Rev Edward Ruskin
DAPHNE GREEN - Liz Ruskin
CAROLYN MOODY - Alison Graham
DIANE GRAYSON - Janie Blakey
ERIC ALLAN - Frank Blakey
HAL GALILI - Josh Durrock
LARRY NOBLE - Ben Dowton
BARBARA OGILVIE - Beattie Dowton
PATRICK HOLT - George Verney
Writer - KEVIN LAFFAN
Producer/Director - ROBERT D CARDONA
Last appearance of Jack Sugden until Episode 309 (29th March 1976).
Ad blocker interference detected!
Wikia is a free-to-use site that makes money from advertising. We have a modified experience for viewers using ad blockers

Wikia is not accessible if you've made further modifications. Remove the custom ad blocker rule(s) and the page will load as expected.