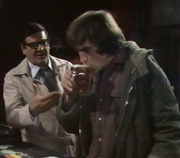 Joe Sugden is looking to Matt Skilbeck for support in running Emmerdale Farm. Matt's Aunt Beattie and Uncle Ben call at the farm, and a stranger arrives in the village to see Jack.
FRAZER HINES - Joe Sugden
SHEILA MERCER - Annie Sugden
ANDREW BURT - Jack Sugden
TOKE TOWNLEY - Sam Pearson
FREDERICK PYNE - Matt Skilbeck
ARTHUR PENTELOW - Henry Wilks
GEORGE LITTLE - Rev Edward Ruskin
DAPHNE GREEN - Liz Ruskin
CAROLYN MOODY - Alison Graham
DIANE GRAYSON - Janie Blakey
ERIC ALLAN - Frank Blakey
HAL GALILI - Josh Durrock
LARRY NOBLE - Ben Dowton
BARBARA OGILVIE - Beattie Dowton
PATRICK HOLT - George Verney
Writer - KEVIN LAFFAN
Producer/Director - ROBERT D CARDONA
Ad blocker interference detected!
Wikia is a free-to-use site that makes money from advertising. We have a modified experience for viewers using ad blockers

Wikia is not accessible if you've made further modifications. Remove the custom ad blocker rule(s) and the page will load as expected.