Rev Ruskin doubts his ability to help those who need it most. Annie Sugden delivers a rebuke. Henry Wilks finds a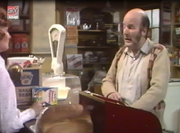 new role.
TOKE TOWNLEY - Sam Pearson
GEORGE LITTLE - Rev Edward Ruskin
SHEILA MERCIER - Annie Sugden
CAROLYN MOODY - Alison Gibbons
PATRICK HOLT - George Verney
DAPHNE GREEN - Liz Ruskin
RONALD MAGILL - Amos Brearly
GEOFFREY BURRIDGE - Mark Procter
FREDERICK PYNE - Matt Skilbeck
ANDREW BURT - Jack Sugden
FRAZER HINES - Joe Sugden
ARTHUR PENTELOW - Henry Wilks
ERIC ALLAN - Frank Blakey
LORRAINE PETERS - Mrs Dawkins
First appearance of Mrs Dawkins.
Ad blocker interference detected!
Wikia is a free-to-use site that makes money from advertising. We have a modified experience for viewers using ad blockers

Wikia is not accessible if you've made further modifications. Remove the custom ad blocker rule(s) and the page will load as expected.