Matt drives 
Hilda Latimer
back to the farm. Annie is just on her way out, but stays to look after her. Hilda's new pink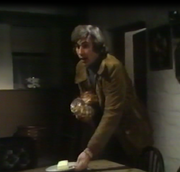 outfit that she has bought for the trial is covered in mud. She was on her way to see her son 
Jim
 ; she starts to cry ; she thinks that Jim is innocent ; Joe receives a postcard from Carol ; Henry & Annie argue about the Latimers ; Annie thinks that Henry is two faced.
Janie is trying to smarten Frank up to see Dan Middleton but Frank is in no hurry though ; Janie encourages him to see that he should be more ambitious ; a police car is in the village & causes some interest ; Edward justifies his interference in Charlie's life to Liz ; Henry calls to tell the Ruskins that Hilda Latimer feels persecuted by the villagers ; Mark tells George that he wants to go to agricultural college ; Johnny Rogers explains to the vicar, Annie & Henry that he threw mud at Mrs Latimer's bright pink coat, not at her personally ; he has to apologise ; Joe is writing to Carol ; Annie has made her own bread & all the lads tuck in.
SHEILA MERCIER - Annie Sugden
FRAZER HINES - Joe Sugden
ANDREW BURT - Jack Sugden
FREDERICK PYNE - Matt Skilbeck
TOKE TOWNLEY - Sam Pearson
ARTHUR PENTELOW - Henry Wilks
RONALD MAGILL - Amos Brearly
ERIC ALLAN - Frank Blakey
DIANE GRAYSON - Janie Blakey
GEOFFREY BURRIDGE - Mark Proctor
PATRICK HOLT - George Verney
GEORGE LITTLE - Reverend Edward Ruskin
DAPHNE GREEN - Liz Ruskin
GEORGE MALPAS - Barney
NORMA SHEBBEARE - Hilda Latimer
JEREMY LEE - Johnny Rogers

Writer - GLORIA TORS
Director - DAVID GREEN
Producer - ROBERT D CARDONA
Ad blocker interference detected!
Wikia is a free-to-use site that makes money from advertising. We have a modified experience for viewers using ad blockers

Wikia is not accessible if you've made further modifications. Remove the custom ad blocker rule(s) and the page will load as expected.