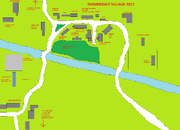 The image, right is a map done by me of Emmerdale Village. It shows the part we see now, the Sharma's factory and the Dingles and the old Woolpack. It also features Demdyke Row with a note saying it was destroyed in the 1993 plane crash.
Now over the years we have seen many buildings in the fictional village of Beckindale (Emmerdale since 1994)
Ad blocker interference detected!
Wikia is a free-to-use site that makes money from advertising. We have a modified experience for viewers using ad blockers

Wikia is not accessible if you've made further modifications. Remove the custom ad blocker rule(s) and the page will load as expected.