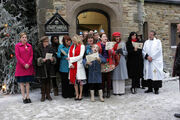 Emmerdale Church is the focal point of the village where residents gather for baptisms, weddings and funerals and church services.
The current church building has only been used as the church since 2002. Before than the old church was on the outskirts of the village and much bigger.
The original church.
Edit
The church of St Mary's, Beckindale was built in the 1500s and was the village church for almost 500 years until 2002 when village resident Zoe Tate burned it down and was sectioned under the Mental Health Act.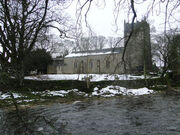 Several generations of Sugden family members, Pearson family members and Verney family members were buried in the churchyard. On the 16th October 1972 Jacob Sugden was buried. This resulted in the villages overdue emergence into the 20th century. The next funerals were of Sharon Crossthwaite and Trash the tramp followed by Peggy Skilbeck nee Sugden in July 1973.
But 20 years later in January 1994 was a time when the church had to deal with the most amount of bodies to be buried when a multiple funeral took place for the villagers who died in the plane crash which devastated the village on the 30th December 1993. Archie Brooks, Elizabeth Pollard, Mark Hughes and Leonard Kempinski and the Hutchinson family all perished. All the passengers of the plane were sent back to their home country in Eastern Europe.
The current church building
Edit
Neighbouring Properties
Edit
Ad blocker interference detected!
Wikia is a free-to-use site that makes money from advertising. We have a modified experience for viewers using ad blockers

Wikia is not accessible if you've made further modifications. Remove the custom ad blocker rule(s) and the page will load as expected.