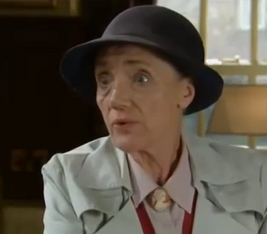 Edna Birch (Nee Burrows)
was a long running character in Emmerdale. She first appeared in 
Episode 2697 (24th May 2000)
although she had lived in the village for most of her life beforehand apart from a few years as a married woman. She has a fiery temper but a good heart and is an 
Annie Sugden
type matriarch of the village. She is now retired and lives at
Woodbine Cottage
with her pet dog
Tootsie
. Edna was played by
Shirley Stelfox
. In December 2015, Shirley died after a short illness. She had already filmed her last scenes as Edna even though she hoped to return to the show once she was better. In
Episode 7492 (3rd May 2016)
Edna died off-screen after a battle with ovarian cancer.
Biography/Backstory
Edit
Edna Burrows was born on the 21st April 1937 to Ernest Burrows and his wife. She had a sister Lily Burrows born in 1946. Edna grew up in Beckindale village and knew of Amos Brearly and Annie Sugden. Edna married a man called Harold Birch in the 1960s, but Harold was secretly gay and in love with his friend Lawrence White. At the same time, Edna adopted her nephew Peter Birch, the son of her sister Lily Butterfield.
2000-2015
Edit
Edna Birch had been a villager for many years by 2000. She was disgusted at Reverand Ashley Thomas for dating Bernice Blackstock. Edna upheld morals in the village.
Memorable info
Edit
Born: 2nd April 1937
Died: 3rd May 2016 (Aged 79)
Full Name: Edna Birch (Nee Burrows)
Father Ernest Burrows
Siblings Lily Butterfield
Spouse Harold Birch
Great nieces Eve Jensen
First cousins Mildred Finch
Second cousins once removed Harriet Finch
Ad blocker interference detected!
Wikia is a free-to-use site that makes money from advertising. We have a modified experience for viewers using ad blockers

Wikia is not accessible if you've made further modifications. Remove the custom ad blocker rule(s) and the page will load as expected.