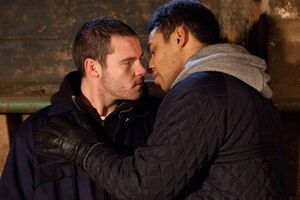 Ed Roberts was a character in Emmerdale, first appearing on 8th February 2012. He became the new love interest for Aaron Livesy. Aaron played hard to get though. On the 5th April Aaron and Ed left for France.
Biography
Edit
Backstory
Edit
Ed first appeared when he asked for his minibus to be repaired at Dingle Automotives.
Ad blocker interference detected!
Wikia is a free-to-use site that makes money from advertising. We have a modified experience for viewers using ad blockers

Wikia is not accessible if you've made further modifications. Remove the custom ad blocker rule(s) and the page will load as expected.