Edward "Ed" Hathersage
was a minor character in Emmerd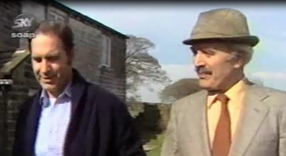 ale Farm during May and June 1979. Ed was an American but his father originated from Beckindale and had gone to America in about 1920. Ed came to Beckindale after hearing of his uncle John Hathersage's death. Ed was played by
Paul Maxwell
.
Biography
Edit
Backstory
Edit
Edward Hathersage was born in about 1925 in America to an English immigrant father who originated from Beckindale, Yorkshire, England. Ed always knew of Beckindale and the Hathersage Farm in the village.
Ed turned up in Beckindale in June 1979 upon the death of his uncle John.
Memorable info
Edit
Birthday: About 1925
Full Name: Edward Hathersage
Father Mr Hathersage
Uncles John Hathersage
Appearances
Edit
1979
Ad blocker interference detected!
Wikia is a free-to-use site that makes money from advertising. We have a modified experience for viewers using ad blockers

Wikia is not accessible if you've made further modifications. Remove the custom ad blocker rule(s) and the page will load as expected.