Dr. Maurice Grant
was a minor character in Emmerdale i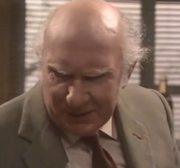 n 1973. He ran Beckindale village doctors surgery. By then he was 70 and wanted to retire. Once he retired to Eastbourne he left the surgery to 30 year old
Dr Claire Scott
, daughter of Sir Gerald Scott. He appeared in 3 episodes, episode 59, episode 61 on 21 May 1973 and 62 on 22 May 1973. He was played by
Arthur Hewlett
.
Biography
Edit
Backstory
Edit
Dr Maurice Grant took over Beckindale practise in about 1950. In the 1960s he treated Joe Sugden after he fell out of a tree and broke his toe. In early 1973, now aged 70, Dr Grant decided to retire.
Memorable info
Edit
Birthday: 1903
Full Name: Maurice Grant
Appearances
Edit
1973
Ad blocker interference detected!
Wikia is a free-to-use site that makes money from advertising. We have a modified experience for viewers using ad blockers

Wikia is not accessible if you've made further modifications. Remove the custom ad blocker rule(s) and the page will load as expected.