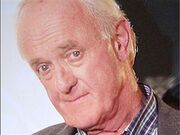 Dermot Macey was a character in Emmerdale from December 2010 to August 2011. He was the father of Declan Macey and Megan Macey. He stayed at Home Farm and Declan was quite resentful to his father. This was never fully revealed why he was so resentful. In 2011, Dermot returned to Ireland. Dermot was played by Frank Kelly, who played Father Jack Hackett in the sitcom Father Ted.
Biography
Edit
Backstory
Edit
Dermot Macey was born in 1940 in Ireland. In about 1965 he married and moved to London, England where he had a son Declan Macey in 1968. Dermot and his wife later split and Dermot remarried soon after and had a daughter Megan Macey in 1972 by his second wife. Dermot was estranged from Declan for many years.
2010-2011
Edit
Dermot Macey, now aged 70, arrived in Emmerdale Village in December 2010. Declan was resentful to Dermot but allowed him to stay at his manor, Home Farm. Declan had done very well for himself.
Memorable info
Edit
Birthday: 1940
Full Name: Dermot Macey
Spouse Unknown Woman (c1965-c1970), Unknown Woman (c1970-??)
Children Declan Macey (1968), Megan Macey (c1971)
Grandchildren Robbie Lawson, Eliza Macey