Derek Warner
was a recurring character in Emmerdale Farm from 
Episode 624 (4th December 1980)
to
Episode 1037 (3rd April 1986)
. He was a friend of
Tom Merrick
and a fellow bad boy. He confessed to
Harry Mowlam
's murder. Originally Derek was played by 
Freddie Fletcher
in 1980 and 1984 and in 1985 to 1986 was played by
Dennis Blanch
.
Biography
Edit
Backstory
Edit
Derek Warner was born in about 1945. He grew up in Hotten. Nothing much is known about his early background but he later became friends with fellow yob Tom Merrick.
1980-1986
Edit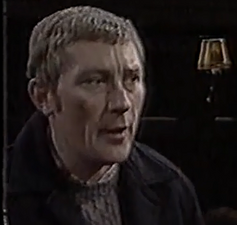 Derek Warner was first seen in the Woolpack where he berated Amos saying how Tom always said he was stuck up. Derek and Tom stole some Christmas trees from the NY Estates plantation and were later caught. Derek and Tom were both given suspended sentences. In March 1984, a few years later Derek was in trouble again for poaching.
In late October 1985, Derek took part in an armed robbery on a security van with Harry Mowlam and Keith Johnson. This lead to rivalry with Mowlam over the proceeds of the robbery. Mowlam kept flashing his cash and going on about how much money he had made recently, thus drawing suspicion to him, Derek and Keith. Mowlam his the money in his pig pen.
Derek killed Harry in January 1986. Matt Skilbeck was arrested as he confessed he had a fight with Harry when Harry was stealing Matt's sheep but was sure he did not kill him. Also, Mowlam's body was found 30 yards away from where Matt last saw him alive. Evidence started to pointed towards Derek, who was behaving strangely, and making hints that he had something to do with Mowlam's death by saying how it could have been deliberate, yet Derek still thought he got away with it and allowed Matt to carry the can for the murder. Derek covered his tracks by doing electrical works for Reverend Donald Hinton.
In April 1986, Keith Johnson kept helping himself to proceeds from the robbery. Derek wanted to kill him when he overheard Jackie telling people that Mowlam's pig pen keeps getting dug up. Jackie had told the police and they staked out the place, hoping the robbery proceeds was there, and to catch them in the act. Derek went to the pig pen and held Keith at gunpoint, and the police overheard Derek say he should kill Keith like he did Harry Mowlam. Keith was arrested but Derek got away. He headed for Beckindale Vicarage and held Rev Hinton at gunpoint, wanting money. But the police closed in. Derek was arrested the same night after the siege. He then confessed to Harry Mowlam's murder.
Derek Warner was later jailed in Arnley Jail, Leeds for killing Harry Mowlam and for his part in the robbery. How long he got is unknown but he probably served around 10 to 15 years in prison, so was released inbetween 1996 and 2001.
As of 2018, he may have been released but has not returned to the village since and his current whereabouts are unknown.
Memorable info
Edit
Birthday: About 1945
Full Name: Derek Warner
Mother Mrs Warner
Appearances
Edit
1980
1984
1985
1986