Demdyke R
ow was a row of cottages in Beckindale. It was the home of a few Beckindale residents who lived in each of the 6 cottages including 
Percy Edgar
until his death in 1976, 
Joe Sugden
in the 1970s and Seth and Meg Armstrong from 1952 until the row was destroyed in the 
plane crash
in 1993. Demdyke Row was hit by wreckage from the plane in the plane crash in December 1993 and the bit that was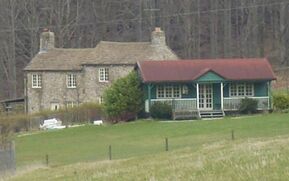 destroyed was never rebuilt, however it is strongly possible that Tall Trees, at the back of the village is the remainder of Demdyke Row. This has never been confirmed in the show but has been hinted at.
(The Emmerdale archivist said that Demdyke was fully destroyed in the crash and Tall Trees is another building
).
1977-1993
Edit
In 1977, elderly Percy Edgar lived at a cottage in Demdyke Row. He died that year and his journalist position was handed to local landlord Amos Brearly, co landlord of The Woolpack with Henry Wilks. Joe Sugden and Kathy Gimbel moved into a cottage in Demdyke Row, much to the chagrin of Kathy's sociopathic father Jim Gimbel, even though Kathy was 25.
Destruction of the cottages in the plane crash
Edit
Residents
Edit
1 Demdyke row
2 Demdyke row
3 Demdyke row
4 Demdyke row
5 Demdyke row
6 Demdyke row
Ad blocker interference detected!
Wikia is a free-to-use site that makes money from advertising. We have a modified experience for viewers using ad blockers

Wikia is not accessible if you've made further modifications. Remove the custom ad blocker rule(s) and the page will load as expected.