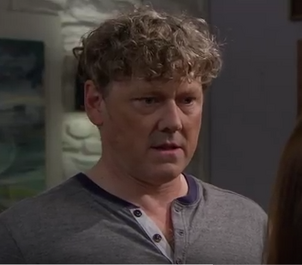 Darren Roderick "Daz" Spencer
is a character in Emmerdale who first appeared in
Episode 6908 (8th July 2014)
for a short stint and then returned in 2017. He is the older brother of
Dan Spencer
. He is played by
Mark Jordon
, formerly of fellow Yorkshire based TV series
Heartbeat
.
Biography
Edit
Backstory
Edit
Darren Roderick Spencer was born in the 1960s. He had a younger brother Dan Spencer born in 1973, and a sister Karen Spencer. In around 1995, Daz joined the army. In 2009, Daz accidentally killed another soldier while in Afghanistan.
Daz arrived in Emmerdale in July 2014 to see his brother Dan. Daz had been in the army for 18 years. Daz arranged a robbery at Farrers Barn (Davids Shop). Daz then made a pass at Kerry Wyatt and Dan sent him packing.
Daz was seen by Kerry on the streets of Hotten begging people for money and he was sleeping rough. Kerry befriended him and took him back to Emmerdale. She told Dan she had seen his brother Daz. She smartened Daz up. Dan was driving out of the village and saw Daz. Dan thought Daz was lying about being a tramp and before Daz could explain, Dan hit him, knowing the bad things Daz had done in the past.
Daz stayed in Hetty The Camper Van but also had a knife on him, for his own protection in case he was found by the people after him. Daz became friendly with Vanessa Woodfield.
Memorable info
Edit
Mother Mrs Spencer
Siblings Dan Spencer, Karen Spencer
Nephew Sean Spencer
Daughter Amelia Spencer
Appearances
Edit
2014
2017