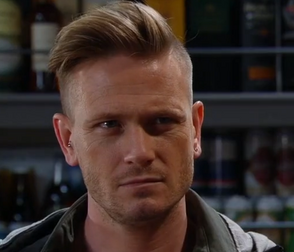 David Metcalfe is a character in Emmerdale who first appeared in November 2006. He is the illegitimate son of 
Eric Pollard
and DNA tests confirmed Eric was his biological father in 2007. David now runs the village shop which is now housed in Farrers Barn, on the corner of Main Street and Church Lane. David is a babe magnet for the girls of the village, and did have a Jason Donovan style haircut until he shaved his hair off. David is played by
Matthew Wolfenden
.
Biography
Edit
Backstory
Edit
David Metcalfe was born on the 17 August 1982 to Lydia Holloway and Eric Pollard. They had had a fling 9 months earlier. Eric abandoned Lydia but she kept a note of Eric's name, and Eric never knew that she was pregnant at the time so for the next 24 years, he never knew he had a son. Lydia married a Mr. Metcalfe, who abused David.
David Metcalfe arrived in the village in 2006 looking for his long lost father Eric. Eric was stunned to think David was claiming to be his son. He thought that David was lying. Eric made it clear that he didn't care that much, also implying Lydia had loose morals, leading to David hitting him, with Eric only being determined to prove that David is lying. He conducted a secret DNA test which showed David wasn't his son - but Eric hadn't sent David's cup. A second test, however, confirmed that Eric was David's biological father.
Memorable info
Edit
Father Eric Pollard
Mother Lydia Metcalfe
Ad blocker interference detected!
Wikia is a free-to-use site that makes money from advertising. We have a modified experience for viewers using ad blockers

Wikia is not accessible if you've made further modifications. Remove the custom ad blocker rule(s) and the page will load as expected.