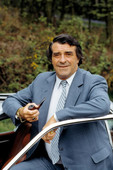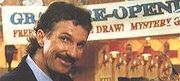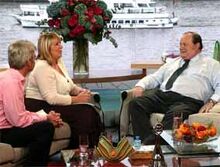 Like many soaps, Emmerdale has been noted over the years for it's array of celebrities who have passed through the village as themselves. These appearances have ranged from being guests at a wedding to the opening of a village fete.
Fred Trueman (cricketer), 1987
Glenn Marples & The Lonely Hearts (pop group), 1990 - playing at a nightclub in Hotten.
James Whale (disc jockey/TV presenter), 1994 - announced the plane crash on local radio.
The Zodiacs (pop group), 1994 - guests at the wedding of Jack Sugden & Sarah Connolly.
Ian Botham (cricketer), 1995 - Opened the newly refurbished Woolpack.
James Crossley (Hunter from Gladiators), 1995 - Guest at local tug-of-war contest.
Martin Offiah (rugby player), 1996 - Guest at Terry Woods' charity rugby match.
Richard Whiteley (TV presenter), 2000
Fay Presto (magician), 2001 - Guest at Carlos Diaz's stag party on the eve of his non-wedding to Nicola Blackstock.
Marti Pellow (singer/Wet Wet Wet), 2001 - Guest at Kathy Glover's leaving party.
Phillip Schofield (TV presenter), 2005 - Interviewed Alan Turner about Shelley Williams' disappearance. Episode 3949 (14th January 2005).
Fern Britton (TV presenter), 2005 - Interviewed Alan Turner about Shelley Williams' disappearance.
Tony Christie (singer), 2005 - Diane attends a Tony Christie concert.
Katherine Jenkins (singer), 2007 - Guest at Emmerdale village's 500th anniversary fete.
Lionel Blair (singer/dancer), 2008 - Judge at a dancing contest at the Village Hall.
Ad blocker interference detected!
Wikia is a free-to-use site that makes money from advertising. We have a modified experience for viewers using ad blockers

Wikia is not accessible if you've made further modifications. Remove the custom ad blocker rule(s) and the page will load as expected.