Carl Thomas King
was a character in Emmerdale having first appeared in
Episode 3657 (9th February 2004)
. His last appearance was
Episode 6371/6372 (17th October 2012)
. He was the first member of the King family to appear in the show. Carl has been responsible for the death of his father 
Tom King
and was there when Paul Marsden died. In October 2012, Carl King was murdered by 
Cameron Murray
after becoming increasingly unpopular with him and other villagers. He was played by
Tom Lister
.
Biography
Edit
Backstory
Edit
Carl King was born in July 1973 the third son of Tom and Mary King. The family lived in Beckindale until about the 1980s when they moved away. Mary King died in 1986. Carl married Coleen in 1998 and they had two children Thomas and Anya King.
2004-2012
Edit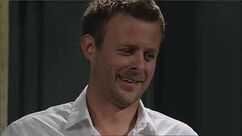 Carl was the first member of the King family to arrive in Emmerdale as the new driver for Tate Haulage. However, no one is aware that he is there as a spy, reporting it back to his family business, King & Sons. Carl learns what Tate Haulage plan to bid for a new contract and, with this information, his family revise their bid and win the contract.
Memorable info
Edit
Birthday: July 1973
Died: 17th October 2012 (Aged 39)
Full Name: Carl Thomas King
Father Tom King
Mother Mary King
Siblings Jimmy King, Matthew King, Max King, Scarlett Nicholls (half, same father)
Grandfathers Albert King
Spouse Colleen King
Children Thomas King (1996), Anya King (1998)
Great aunts Phyllis King
Nephews/Nieces Angelica King, Elliot Windsor
Ad blocker interference detected!
Wikia is a free-to-use site that makes money from advertising. We have a modified experience for viewers using ad blockers

Wikia is not accessible if you've made further modifications. Remove the custom ad blocker rule(s) and the page will load as expected.