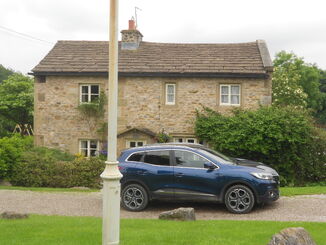 Brook Cottage
is a cottage in Emmerdale which is currently unoccupied. Brook Cottage is at the head of Main Street, Emmerdale.
Backstory before 1972
Edit
In the late 1930s a Mr Patterson lived at the cottage and fought at Dunkirk in 1940 in which he saved his batallion but lost a leg. After the war he returned to Beckindale and was nicknamed Peg Leg Patterson. He died in the house.
Storylines
Edit
1972-2004
Edit
In January 2016, Ashley Thomas, Laurel Dingle, Sandy Thomas and Arthur Thomas move out of the cottage to move back into Mulberry Cottage.
Neighbouring Properties
Edit
No properties are adjoining but Brook Cottage is at an angle behind Cafe Main Street.
Known residents over the years
Edit
2014 Megan Macey
2014 Declan Macey
2014 Tracey Shankley
2014 Robbie Lawson
2014-15 Harriet Finch
2014-16 Ashley Thomas
2015-16 Sandy Thomas