Robert Reginald "Bob" Hope is a long running char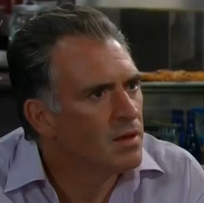 acter in Emmerdale, first appearing in
Episode 2749 (19th September 2000)
. He later married Viv Windsor the village post mistress. He is played by
Tony Audenshaw
.
Biography
Edit
Backstory
Edit
Bob Hope was born on the 11 February 1960. he had a brother Eddie Hope. In 1982, aged 22, Bob married Jean. They had a daughter Dawn Hope in 1984. Bob and Jean divorced shortly after Carly was born. A son Jamie Hope was born in 1985 as she was pregnant when they divorced. Bob and Jean remarried in 1986 but split up again in 1988 and he quickly went on to remarry to Barbara, who was probaby pregnant with his child at the time. In 1988 they had a son Josh Hope and in 1989, they had a daughter Carly Hope. Bob split from Barbara and married Vonda Lockhart. They had a daughter Roxy Lockhart in about 1995. Yet again Bob could not hang on to wives as him and Vonda spit up.
Bob arrived in Emmerdale in September 2000.
Character creation and development
Edit
Memorable info
Edit
Born: 11th February 1960
Full Name: Robert Reginald Hope
Siblings Eddie Hope
Spouse Jean Hope (1982-1984, 1986-1988), Barbara Hope (1988-1991), Vonda Lockhart (1994), Viv Windsor (2001-2005, 2006-2011)
Children Dawn Woods (1984), (nee Hope, later Carter), Jamie Hope, (1985) (by Jean), Josh Hope (1988), Carly Hope (1989), (by Barbara) Roxy Lockhart (c1995), (by Vonda), Heath Hope, Cathy Hope (by Viv)
Grandchildren TJ Woods
Ad blocker interference detected!
Wikia is a free-to-use site that makes money from advertising. We have a modified experience for viewers using ad blockers

Wikia is not accessible if you've made further modifications. Remove the custom ad blocker rule(s) and the page will load as expected.