William "Bill" Whiteley
was a character in Emmerdale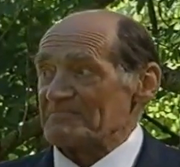 from 
Episode 1323 (8th February 1989)
to
Episode 1488 (13th September 1990)
. He was the grandfather of 
Pete Whiteley
and had a weird sense of humour and was obsessed with death. He died in late 1991 in his sleep. Bill was played by 
Teddy Turner
who had previously acted as
Tom Hawker
in 2 episodes of Emmerdale Farm in 1978.
Biography
Edit
Bill Whiteley

Born

Died

Children

Grandchildren

Duration

Played by
Backstory
Edit
Bill Whiteley was born on the 31 October 1918. He married and had a son in about 1940 who in turn married and had a son Pete Whiteley in 1963. Bill lived in Beckindale for many years.
1989-1991
Edit
Bill first appeared in February 1989. He was a 70 year old man and had lived in the village for many years beforehand. He was the grandfather of Pete Whiteley. Bill had an obsession with death and he had a weird sense of humour.
Bill died offscreen in Episode 1578 (30th July 1991).
Memorable info
Edit
Born: 31st October 1918
Died: 30th July 1991 (Aged 72)
Full Name: William Whiteley
Bill was first mentioned in 1987 when vet Ruth Pennington had a call out there. In May 1986, a Michael Whiteley wed Janet Bulstrode, and Reverend Donald Hinton had to borrow Seth's bike.
In January 1974, Frank Blakey did a war memorial for Beckindale residents who died in WW2. One of the names was Harold Whiteley. Maybe Bill's brother.
Children Mr Whiteley
Grandhildren Pete Whiteley
Great Grandchildren Pete Whiteley Jnr