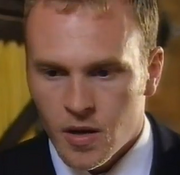 Brain Ian Francis "Biff" Fowler
was a character in Emmerdale from 
Episode 1850 (10th March 1994)
to 
Episode 2559 (5th August 1999)
followed by a brief return in 2005 for
Seth Armstrong
's funeral. Biff last appeared in
Episode 4193 (1st November 2005)
. He dated 
Jessica McAllister
and 
Kathy Tate
but jilted her at the wedding in 1999. He was played by
Stuart Wade
.
Biography
Edit
Backstory
Edit
Brian Ian Francis Fowler was born on the 9 August 1976. His father Ron Hudson had walked out on Brain's mother Sandra Fowler when she was pregnant. As he got older, Brian was known as Biff, which was his initials. Biff went to school with Luke McAllister when the McAllister's moved to Yorkshire in 1993. Biff was a biker.
1994-1999
Edit
Biff arrived in Beckindale in 1994.
2005 and later
Edit
Father Ron Hudson
Mother Sandra Fowler
Spouse Linda Fowler (1996)
Uncles Mr Hudson
Ad blocker interference detected!
Wikia is a free-to-use site that makes money from advertising. We have a modified experience for viewers using ad blockers

Wikia is not accessible if you've made further modifications. Remove the custom ad blocker rule(s) and the page will load as expected.