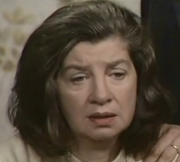 Beryl Crossthwaite
was a minor character in Emmerdale Farm in 1973. She was the mother of 
Sharon Crossthwaite
and the wife of
Ronnie Crossthwaite
. Beryl was a second cousin of
Annie Sugden
. After their daughters murder, the Crossthwaites left Beckindale in 1973. In 1974 Franklin Prescott and his wife Diana moved into the Crossthwaite's old cottage. Beryl was played by
Joan Scott
.
Biography
Edit
Backstory
Edit
Beryl was born in about 1930 in Beckindale. One of her parents was the first cousin of Grace Pearson nee Armitage. One of Annie Pearson's grandparents and Beryl's grandparents were siblings. Annie and Beryl shared 2 great grandparents.
Memorable info
Edit
Spouse Ronnie Crossthwaite (c1950-After 1973)
Children Sharon Crossthwaite (1955)
Second cousins Annie Sugden
Second cousins once removed Jack Sugden, Joe Sugden, Peggy Skilbeck
Second cousins twice removed Jackie Merrick, Robert Sugden, Victoria Sugden, Samuel and Sally Skilbeck
Appearances
Edit
1973
Ad blocker interference detected!
Wikia is a free-to-use site that makes money from advertising. We have a modified experience for viewers using ad blockers

Wikia is not accessible if you've made further modifications. Remove the custom ad blocker rule(s) and the page will load as expected.