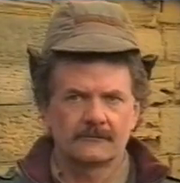 Barry Clegg
was a minor character in Emmerdale first appearing in 
Episode 2160 (30th January 1997)
and last appearing in
Episode 2315 (27th January 1998)
, appearing in 31 episodes in total. He was the eccentric first husband of
Lisa Dingle
and had several bizarre ideas to make money. Barry made a huge rocket and got 
Marlon Dingle
,
Zak Dingle
and
Mandy Dingle
involved, and to his regret as the rocket blew up. Barry was played by actor and comedian
Bernard Wrigley
.
Barry's mother Granny Clegg is a regularly mentioned but never seen character.
Biography
Edit
Backstory
Edit
1997-1998
Edit
In January 1997, Barry turned up to see Lisa and had an idea to make a huge rocket. Unfortunately the rocket blew up. In September 1997, Barry tried to stop Lisa from marrying Albert Dingle. Barry then tried to compete with Zak Dingle for a busking pitch.
In January 1998, Barry had an idea for a pedal powered microwave. He then paid for Zak and Lisa's wedding. This was the last time Barry had anything to do with the Dingle, however Lisa would keep in touch with Barry's mother.
As of 2018, Lisa remains in touch with Granny Clegg but what became of Barry is unknown.
Memorable info
Edit
Mother Mrs Clegg (Granny Clegg)
Spouse Lisa Grecer (1978-1997)
Appearances
Edit
1997
1998