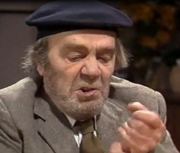 Arthur Hebron Braithwaite
was a minor character in Emmerdale Farm in 1979, appearing in 6 episodes. He was an old wartime pal of
Sam Pearson.
  He was born in about 1897 in Beckindale and in 1979 lived at
Bull Pot Farm
. He was played by comedian
Max Wall
.
In 1979, when Arthur had his birthday, he could not remember exactly how old he was but the best guess he was born c1895. Max Wall, born 1908, was several years younger than his character.
Biography
Edit
Backstory
Edit
Arthur Hebron Braithwaite was born in the late 1890s in Beckindale. He had an uncle Jeremiah Braithwaite. In 1911, on his first date, he took a girl up to Kipps Inlet, a local field. Arthur served at Flanders during WW1 with Sam Pearson. Arthur was also the same age as Charlie Nelson, another Beckindale resident, so may have known him. Arthur married in about 1920 and had two sons, whom were both killed in WW2. Arthur remarried in 1948 and became stepfather to his wife's grown up daughter Eileen. Eileen later married a Will Bowker.
Arthur Braithwaite made a visit to Emmerdale Farm in February 1979 for his birthday. Arthur could not remember exactly how old he was, as he probably never applied for a passport so never needed his birth certificate, so he lost track of his age.
His farm, Bull Pot Farm was dilapidated and in need of repair. New NY Estates manager Maurice Westrop wanted him to sell the farm so that he could keep his reputation up, or at least renovate the farm. Arthur was now about 80 years old and unable to run the farm like he used to. His stepdaughter Eileen came and saw him.
Arthur was mentioned in 1980 so was still alive by then and aged about 85.
As of 2018, it is likely Arthur Braithwaite passed away years ago.
Memorable info
Edit
Birthday: 20th February (Year Unknown)
Full Name: Arthur Hebron Braithwaite
Spouse Mrs Braithwaite (1920-??), Mrs Braithwaite (1948-??)
Children 2 sons
Uncles/Aunts Jeremiah Braithwaite
Stepdaughters Eileen Bowker
Appearances
Edit
1979