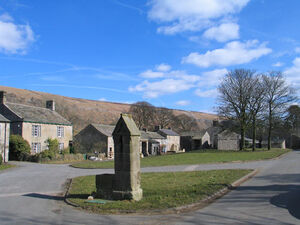 Arncliffe is a quaint village in the Littondale area of the Yorkshire Dales. It was used as the location scenes for the fictional village of Beckindalee from 1972 to 1975 before filming the village scenes switched to Esholt.
Scenes from Arncliffe were still being seen in April 1976 a few months after we first saw Esholt in the shows village scenes. Even now Arncliffe still attracts Emmerdale fans after having not filmed there for 40 years, as well as being a general major tourist attraction in the Yorkshire Dales.
Use in Emmerdale Farm
Edit
Arncliffe was chosen as the village to be used for the location scenes in the new show "Emmerdale Farm", which was to be screened from October 1972 onwards. It was a quiant village in the Littondale area of the Yorkshire Dales. The local pub The Falcon Inn was to be used as The Woolpack and the village forge, shop, vicarage and church was to be used for the exterior scenes of those buildings in the fictional show.
Arncliffe was used for the next 3 and a half years in the village scenes for "Emmerdale Farm" but in the autumn of 1975 the decision was made by the shows production team to choose a village much closer to the Yorkshire TV studios in Leeds. Arncliffe was a long way from the studios and the overheads increased due to transporting the crew, equipment and cast to such a remote location meant that a new village had to be found. Also the cast and crew had to stay overnight on days of filming, and the expense of accomodating them at The Falcon Inn proved too much.
One of the crew members knew a village just north of Bradford called Esholt, a small industrial village which looked a lot like a North Yorkshire village. A recce was done by the crew and the new village was chosen to be used for the village scenes in Emmerdale. In October/November 1975 the crew bade farewell to Arncliffe and filming in Esholt began in November/December 1975.
Some of the final scenes filmed in Arnciffe in late 1975 were edited into two episodes transmitted in April 1976, a few months after the first scenes filmed in Esholt were transmitted in the programme.
First appearance of Arncliffe in Emmerdale Farm scenes Episode 1 (16th October 1972)
Last appearance of Arncliffe in Emmerdale Farm scenes Episode 311 (5th April 1976)
Tour of the village
Edit
Ad blocker interference detected!
Wikia is a free-to-use site that makes money from advertising. We have a modified experience for viewers using ad blockers

Wikia is not accessible if you've made further modifications. Remove the custom ad blocker rule(s) and the page will load as expected.