Archie's Hill
is a moor on the edge of Emm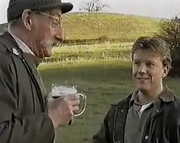 erdale Village. It was named in 1994 after
Archie Brooks
, a villager who was killed when a
plane crash
ed into the village in December 1993. Archie, having just had a row with Seth and Turner in the pub, was walking on the moor with his friend Nick following him, when he was engulfed in flames and vapourised by fuel from the burning airliner.
In 1986, a group of gypsies camped on the land for a while. Amos Brearly entertained them. They gypsies left the area soon after and gave Amos a parting gift.
After a row with
Alan Turner
in
The Woolpack
on the night of the plane crash, Archie Brooks walked out and
Nick Bates
followed him. He tried to talk him round and to return to the pub. Nick followed Archie onto a hill just outside the village. Nick was then blinded by aviation fuel and then a fireball engulfed the moor, supposedly incinerating Archie. Archie's body was never found which strongly suggests he was vapourised.
Memorable info
Edit
Archie's Hill seems to be behind Main Street, Emmerdale, near The Woolpack.