Antony Moeketski was an African teacher who stayed in Beckindale for a month or so in the spring of 1978. He helped Seth Armstrong to read and write. He also helped Rev Hinton in his investigation to identify the body buried behind the Woolpack. The body was an ancestor of Sam Pearson.
He was posted to a job in Wales and left Beckindale shortly afterwards, never to be seen again.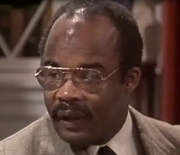 Antony was played by Oscar James who went to star in EastEnders as Tony Carpenter from 1985 to 1987.
Biography
Edit
Backstory
Edit
Memorable info
Edit
In one episode, Mr Moeketski humourously put on a Yorkshire accent.
Appearances
Edit
1978
Ad blocker interference detected!
Wikia is a free-to-use site that makes money from advertising. We have a modified experience for viewers using ad blockers

Wikia is not accessible if you've made further modifications. Remove the custom ad blocker rule(s) and the page will load as expected.