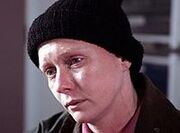 Alice Dingle (nee Wilson) was a character in Emmerdale from 2004 to 2006. She romanced Sam Dingle and married him. Her first appearance was Episode 3914 (5th December 2004) and her final appearance was in Episode 4426 (1st August 2006) when she was seriously ill with cancer and Sam helped her die at her request by giving her a morphine overdose. Alice was layed by Ursula Holden-Gill.
Biography
Edit
Backstory
Edit
Alice Edith Rose Wilson was born on the 10th May 1977 to John Wilson and Mrs Wilson. She was an only child and grew up on the family farm.
2004-2006
Edit
Memorable info
Edit
Full name Alice Edith Rose DIngle (nee Wilson)
Born 10th May 1977
Died 31st July 2006 (Aged 29)
Father John Wilson
Spouse Sam Dingle (2006)
Children Samson Dingle (2006)
Ad blocker interference detected!
Wikia is a free-to-use site that makes money from advertising. We have a modified experience for viewers using ad blockers

Wikia is not accessible if you've made further modifications. Remove the custom ad blocker rule(s) and the page will load as expected.