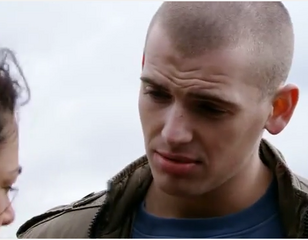 Alex Moss
was a character in Emmerdale who first appeared on the 12th April 2011. He worked as a farmhand at
Butlers Farm
. He was a Liverpuddlian and dated
Victoria Sugden
. He was one of 3 people murdered by 
Cameron Murray
on the 
24th December 2012
after Cameron confessed to him that he killed 
Carl King
and when Alex was aghast at this, Cameron was worried that he'd go to the police so he kidnapped him and killed him after he tried to escape by luring Cameron into untying him. Cameron buried the body in the woods. He later killed 
Gennie Walker
after she found out his secret before he died during an armed siege. Alex was played by actor
Kurtis Stacey
.
Backstory
Edit
Alex Moss was born in about 1991 in Liverpool. He moved to Yorkshire as a young man.
2011-2012
Edit
Alex arrived in Emmerdale in April 2011 to work at Butlers Farm. He soon became a babe magnet as he was hunky. Alex was a bit of a rebel, too. Alex had a fling with Moira Barton.
Aftermath of his murder
Edit
After Cameron Murray murdered Alex, Declan Macey announced his plans to build a camp site to run alongside his festival, 'Home Fields' using the very woods where Alex's body was buried.  Alex was the second of 3 people to be killed by Cameron Murray. The 3rd victim was Gennie Walker.
In 2017, Alex was mentioned when the subject of the dead body under the holiday village created by former owner Declan was mentioned by the White family, who heard all about Declan.
Memorable info
Edit
Born: 1991
Died: 25th December 2012 (Aged 21)
Cause of Death: Strangled by Cameron Murray.
Grandmothers Beattie Dixon