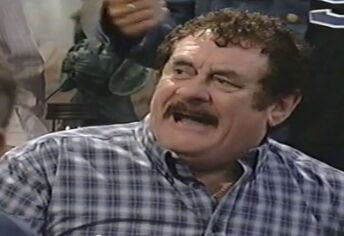 Albert Ezekiel Dingle
was a character in Emmerdale between 1995 and 1998, returning briefly in 2004. He first appeared in
Episode 2037 (21st December 1995)
and last appeared in
Episode 3877 (21st October 2004)
. He was played by
Bobby Knutt
.
Albert is the brother of Zak Dingle, a long-running character in Emmerdale, and father to Marlon Dingle and Eli Dingle.
Biography
Edit
Backstory
Edit
Albert Ezekiel Dingle was born on the 20th January 1946 in Beckindale, the eldest child of Jedediah Dingle and Peg Dingle. Albert married a woman called Delilah, Delilah Dingle Snr and they had a son Marlon Sebastian Dingle in March 1974. 6 years later, they had another son Eli Dingle. Albert went to prison several times.
In late 1995 Albert was released from prison so decided to pay his relatives a visit.
1995-2004
Edit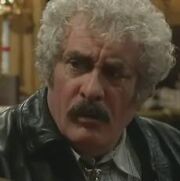 Albert arrived in Emmerdale in December 1995 and was punched by Zak. In February 1996 he stole
Eric Pollard
's car and was yet again sent to prison. He was released in May 1996.
Albert then made a play for Lisa Clegg but in the end she chose Zak. Albert carried on his criminal activities. He later roped his gullible but sometimes crooked nephew Sam Dingle into being involved in an armed robbery. Sam was arrested but Albert and the money got away. Albert stashes the money and manages to hide the fact that he was the true culprit from his family. However Butch finds the stolen money and confronts Albert with Zak. They threaten him with violence and force him to confess to the crime. Albert is arrested for the crime and disowned by his family and he and Sam are sent down for armed robbery. They are both released two years later but Albert does not make an appearance upon his return.
In 2004 Albert came back for a shindig in Emmerdale.
As of 2017 what has become of Albert is unknown but actor Bobby Knutt died in September 2017. If Albert is killed off then it is likely that Marlon or Zak will mention it.
Memorable info
Edit
Born: 21st January 1946
Full Name: Albert Ezekiel Dingle
Father Jedediah Dingle
Mother Peg Dingle
Siblings Shadrach Dingle, Zak Dingle, Ezra Dingle, Caleb Dingle, Zebediah Dingle
Grandfathers Jonah Dingle
Spouse Delilah Dingle Snr
Children Marlon Dingle (1974), Eli Dingle (1980)
Grandchildren Leo Goskirk, April Windsor
OTHER RELATIVES