2012 is the 41st and current year of Emmerdale and will be the year Emmerdale turns the big Four 0. Hazel Rhodes, John Barton and Aaron Livesey all departed this year and Megan Macey arrived. The biggest departure has been Aaron Livesey as he had been one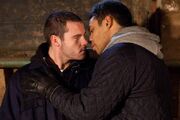 of the shows most popular characters in recent times. In rceent months Zak has battled with his mental health problems and Chas and Cameron are carrying on their steamy affair.
16 October 2012 will be the fourtieth birthday of Emmerdale. Six days before will be 40 years since Jacob Sugden died, in which his funeral opened the series.
January, Cain Dingle found out who his attacker was. His own father Zak Dingle.
January, Hazel Rhodes left Emmerdale to go travelling. Aaron kissed her goodbye at Jackson's grave.
21 February, Megan Macey arrived at Home Farm.
1 March, Turner bought forward his objections to the Home Farm festival.
1 March, Eric Pollard took his anger out on a customer at the B&B.
9 April,
10 April,
11 April, Ashley told Sandy that he would have to go into a home. He made him tell laurel he wanted to.
12 April, Sandy told laurel he needed to go into a home. Ashley later thanked him for sticking to him promise to tell Laurel that.
13 April, Chas decided she was to call things off with Cameron.
July, Charity stands up to Nigel and Dave, the loan sharks and offers then £2000 of her savings.
July, Chas dumps Cameron and Debbie is rushed to hospital.
8 July, Ashley is found wandering the park at Hotten by Marlon. Marlon takes him home to Tall Trees.
Ad blocker interference detected!
Wikia is a free-to-use site that makes money from advertising. We have a modified experience for viewers using ad blockers

Wikia is not accessible if you've made further modifications. Remove the custom ad blocker rule(s) and the page will load as expected.