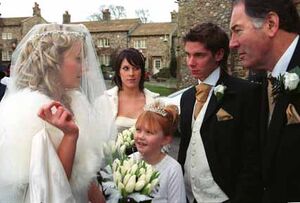 2004 was Emmerdale's thirty third year in production. This year saw the debut of the King family who dominated the show for the next few years. Tom King, his children Jimmy, Carl, Max and Matthew King. Tom King blackmailed Zoe Tate into selling Home Farm to him.
1 January, the storm ravaged Emmerdale and Tricia Dingle was crushed under the rubble when lightning struck the front wall of the Woolpack. Ashley was rushed to hospital after the car crash caused by a falling tree.
2 January, It was the calm after the storm. Tricia was left fighting for her life in hospital while Louise waited for Ashley to wake up.
4 January, Marlon was told of devastating news of Tricia's condition. She was brain dead. Scott tried to disarray Zoe's vulnerability at Home Farm.
5 January,
17 February, the big day arrived for Andy Sugden and Kate Addyman. Robert sat on as his adopted brother wed the woman he loved. Len Reynolds proposed to Pearl Ladderbanks on the day.
22 February, Chas got into a fight with Louise after her interfering and made an enemy in her. Ashley struggled to comprehend his feelings for Laurel as she was about to leave the village.
29 February, Tom King first appeared and rubbed Zoe Tate up the wrong way.
May, Tom King celebrated his 65th birthday.
24 December, Seth made an announcement via webcam from Australia to everyone in Emmerdale. His eulogy was watched in the Woolpack.
Ad blocker interference detected!
Wikia is a free-to-use site that makes money from advertising. We have a modified experience for viewers using ad blockers

Wikia is not accessible if you've made further modifications. Remove the custom ad blocker rule(s) and the page will load as expected.