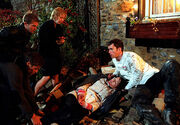 2003 was Emmerdale's thirty second year in production and was an eventful year down in the dales with a storm which ravaged the village at the end of the year. Also this year saw the exit of the much loved Seth Armstrong. He went on an extended holiday to visit Kathy in Australia due to the actor Stan Richards health problems.
April Donna Windsor collapses after a drinking binge.
July, Steph Stokes celebrated her 50th birthday.
September, Seth Armstrong left Emmerdale and took a long holiday to Australia to visit Kathy.
17 September, Chris Tate committed suicide and makes it look like his wife Charity has murdered him.
December, journalists descend on the village and ask villagers if they would take part in a documentary on the 10th anniversary of the plane crash. Eric Pollard, running for mayor is all for it and takes charge of helping the press but when the press start questioning how his wife Elizabeth died he calls the thing off.
31 December, on the 10th anniversary of the plane crash, the village is hit by a storm which destroys part of The Woolpack and leaves Tricia Dingle fighting for her life in hopsital after being crushed by rubble.
Ad blocker interference detected!
Wikia is a free-to-use site that makes money from advertising. We have a modified experience for viewers using ad blockers

Wikia is not accessible if you've made further modifications. Remove the custom ad blocker rule(s) and the page will load as expected.