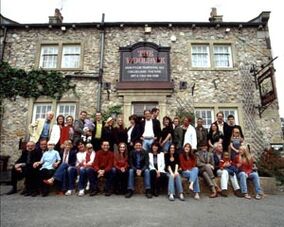 2002 was Emmerdale's thirty first year in production. This year saw the show celebrate its 30th anniversary in October when Jack made a reference to the very first episode 30 years before at his fathers funeral. Zoe Tate became so depressed that she burnt down the village church and was sectioned, diagnosed with schizophrenia. Amos Brearly got a mention this year.
January, Peg Dingle, Zak's mother turned up in the village. Zak took her on a tour of the village and updated her on all the murders or dangerous deaths that have happened in the village since she was last there such as Shirley Turner and Frank Tate.
January, the Sugdens left the current Emmerdale Farm. They moved into Tenant House.
July, Zoe Tate burned down the village church.
25 December, Louise Appleton killed her abusive lover Ray Mullen.
Ad blocker interference detected!
Wikia is a free-to-use site that makes money from advertising. We have a modified experience for viewers using ad blockers

Wikia is not accessible if you've made further modifications. Remove the custom ad blocker rule(s) and the page will load as expected.