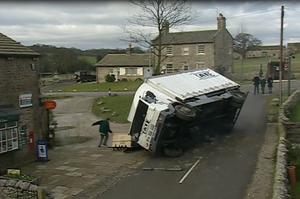 2000 was Emmerdale's twenty ninth year in production. This year saw the final appearance of Ned Glover and the first appearances of popular characters Cain and Charity Dingle who first appeared at their cousin Butch's funeral. Also Rodney Blackstock and Bob Hope first appeared this year.
January, Seth drove Betty's former acquaintance out of the village after he blackmailed her over the abortion she had years ago which Seth never knew about.
24 March, a Tate Haulage lorry and a minibus crash in Main Street. Pete Collins the driver of the lorry, a local councillor, Butch Dingle and a local woman were killed.
30 March, the first appearance of the notorious Cain Dingle. He showed up at Butch's funeral.
September, Seth Armstrong is mugged by two girls in Hotten.
Ad blocker interference detected!
Wikia is a free-to-use site that makes money from advertising. We have a modified experience for viewers using ad blockers

Wikia is not accessible if you've made further modifications. Remove the custom ad blocker rule(s) and the page will load as expected.