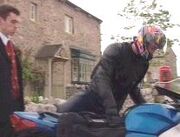 1999 was Emmerdale's twenty eighth year in production. This year saw the brief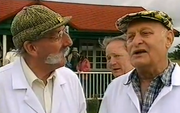 return of 4 former characters. Ernie Shuttleworth, Elsa Chappell, Mrs Bates and Nick Bates. Turner had a health scare and sold the Woolpack. This year saw the exit of the superbitch Kim Tate in January. Tricia Stokes was causing ripples in the village and Scott Windsor did everything he could to try and stop Roy Glover and Scott's stepsister Kelly Windsor marrying.
Janaury, Will Cairns left the village.
January, resident superbitch Kim Tate visited Chris at Home Farm and after a row she hit him over the head with a bowling ball, stole some cash and revealed the truth on the death of Frank. Kim then fled in a helicopter and her final words were "No. Kim Tate" when the pilot asked if she was Kim Marchant. She was never seen again.
May, Rachel Hughes is killed when she is thrown of a cliff by her psychotic boyfriend, Graham Clark.
May, Turner decides to sell the Woolpack.
August 5th, Kathy Tate is ready to wed Biff Fowler but Biff jilts her. This episode saw the final appearance to date of Caroline Bates and her son Nick.
August 26th, final appearance of Ernie Shuttleworth.
November, Chris Tate is kidnapped and the kidnapper says he is the long lost son of Frank Tate.
26th November, first appearance of Diane Blackstock.
Ad blocker interference detected!
Wikia is a free-to-use site that makes money from advertising. We have a modified experience for viewers using ad blockers

Wikia is not accessible if you've made further modifications. Remove the custom ad blocker rule(s) and the page will load as expected.