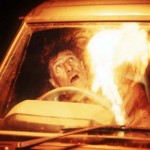 1993 was Emmerdale's twenty second year in production and this year saw a few changes down Beckindale way and one of them was the original Emmerdale Farm house being vacated due to subsidence after being in the Sugden family for 140 years. Frank Tate started the year by giving Neil Kincaid a good horsewhipping at discovering Neil's affair with Kim and Frank himself carried on with his battle with the booze and coping with his wife's affair. But on the 30th December that year, on a cold dark night the whole village had to face their hugest battle when a Russian airliner exploded 30'000 feet above the village killing everyone on board and 9 villagers, including 4 regular characters. Earlier in the year we saw a return of Amos Brearly to the show for a few months.
February, the original Sugden farmhouse was vacated due to subsidence.
May, Amos Brearly returned to Beckindale for a few months.
August, Elizabeth began to have doubts about Eric.
October, Annie Sugden married Leonard Kempinski at the age of 73. Former vicar Donald Hinton was a guest at the wedding alongside Amos Brearly.
Ad blocker interference detected!
Wikia is a free-to-use site that makes money from advertising. We have a modified experience for viewers using ad blockers

Wikia is not accessible if you've made further modifications. Remove the custom ad blocker rule(s) and the page will load as expected.