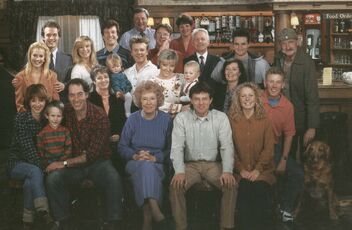 1992 was Emmerdale's twenty first year in production. 20 years passed since the first episode on 16th October 1992. This year saw a few brief appearances from Amos Brearly. Also a child abuse storyline rocked Beckindale this year.
January, Amos Brearly returned to Spain after his brief visit to Emmerdale Farm.
25th October, Eric Pollard married Elizabeth Feldmann.
Frank Tate threw Kim out after she embarked on an affair with Neil Kincaid.
Ad blocker interference detected!
Wikia is a free-to-use site that makes money from advertising. We have a modified experience for viewers using ad blockers

Wikia is not accessible if you've made further modifications. Remove the custom ad blocker rule(s) and the page will load as expected.